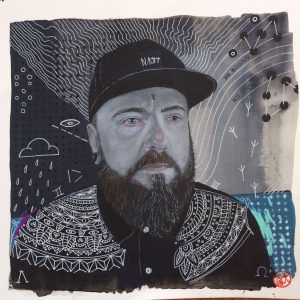 Paul Ryan started off as one of the founder members of the pioneering Black Metal band Cradle Of Filth playing on all 3 demos, the albums "The Principle Of Evil Made Flesh" and "Dusk And Her Embrace", as well as being one of the key writers for Vempire.
After extensive touring with Cradle Of Filth and The Blood Divine Paul found himself being more intrigued / drawn by the buisness side of music so he took the decision of turning his hand to music promoting, with breaks both as a regional in-house booker at the Colchester Arts Centre (working with Director Anthony Roberts), and then as national promoter (working with Melvin Benn) for the Mean Fiddler based at the iconic "Astoria" music venue on London's Charring Cross Road.
Having a successful run with acts such as British Sea Power, Grand Master Flash, In Flames and Killswitch Engage, Paul got the opportunity to switch over to Music Agent, working for the revered veteran Agent Neil Warnock (Pink Floyd, Deep Purple, Motörhead, Dolly Parton Johnny Cash) and Geoff Meal (Muse, My Chemical Romance, Paramore) at "The Agency Group". Paul took over as Agent for several acts he had previously promoted and signed up a breaking roster of artists, with bands like Architects, Bring Me The Horizon, Bullet For My Valentine, In Flames, Killswitch Engage, Lamb Of God and Trivium, which to this day have been pushing contemporary Rock and Metal forward and touring globally to great success.
Paul is Married and is a proud father.
1990-1996: Cradle Of Filth (guitarist)
1996-1998: The Blood Divine (guitarist)
1999-2001: Colchester Arts Centre (in house promoter)
2001- 2002: Mean Fiddler (national promoter)
2002- present: The Agency Group / Untied Talent Agency (Music Agent)
Contact Paul via United Talent Agency